Main content starts here, tab to start navigating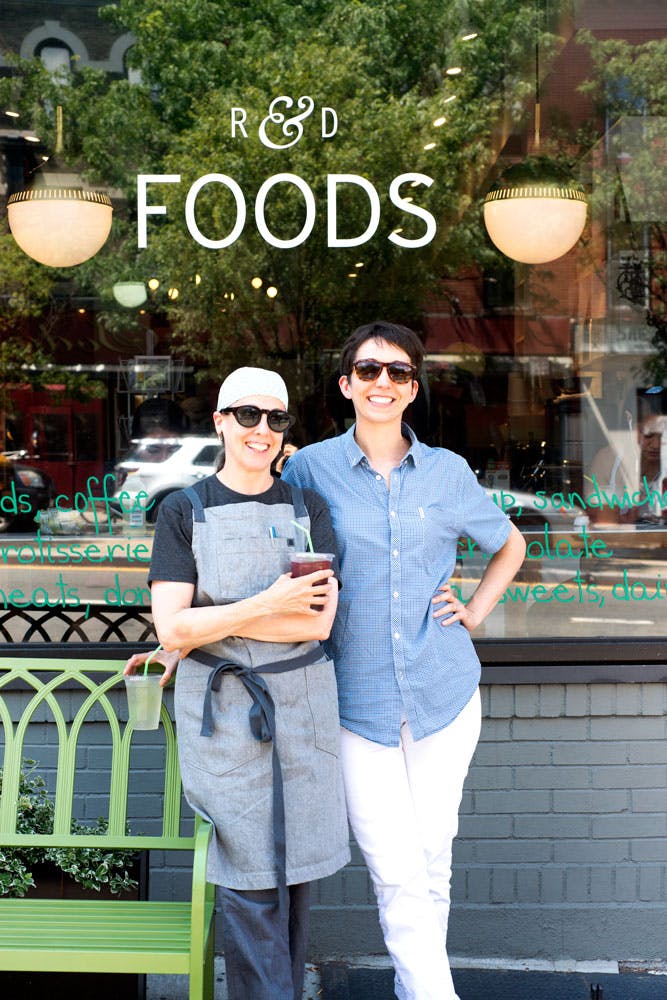 We are Ilene Rosen and Sara Dima, co-owners of R&D Foods. Our store opened on May 13, 2014 but we've worked side by side since 2003. Our small but mighty shop is where we live and breathe every day. We're old-school shop keepers helping our customers select cheese for the in-laws visit, wrap a present for a co-worker and pack a gift bag for the neighbors who just had a baby. We sell made-to-order sandwiches, vegetable-driven prepared foods, grocery staples and specialties alike. Coffee, candles, LOTS of hot sauce, candy by the pound, and old fashioned cake donuts that we make fresh EVERY morning.
Ilene is a 2nd generation Brooklynite, the mother of grown twin daughters, and the wife of a nice Jewish boy from Brooklyn. Her first cookbook, Saladish (Artisan), was published in March 2018 and features 100ish recipes tha "elevate salads from the quotidian to the thrilling" according to The New York Times food writer, Melissa Clark. She's responsible for all things creative at R&D: food, design, otherwise. Before she began making kale salad for a generation of New Yorkers, she worked as an interior and furniture designer. Before R&D made her a slave to the donut robot, she served as the Savory Chef at The City Bakery for 15 years. Her favorite ingredients: nuts, seeds, radishes, yogurt and things you buy in Chinatown. She prefers to eat out and likes to have jam for dessert. If you make her a cocktail: Negroni (with big ice only) in the spring/summer; Manhattan (up) in the fall/winter. If you'd like to work in her kitchen, don't be late, learn your vegetables and follow her dictum: early to bed, early to rise.
Sara is a 5th generation Texan, who has called New York home for 15 years, the mother of the store mascots, and the wife of a nice Irish-Italian boy from Brooklyn. She's responsible for all the paperwork at R&D plus some customer service and lots of sandwich eating. Before she hustled donuts on Vanderbilt Avenue, she served alongside Ilene as the General Manager at The City Bakery and had a brief stint in publishing. Her favorite ingredients are eggs, avocados, yogurt, and chips. "Vinaigrette" is her favorite food word. She prefers to eat out but the mascots keep her at home most nights – shackled to her slow cooker. If you make her a drink, make it a bottle of Chablis. If you'd like to work at her counter: use your big girl voice, don't submit too many schedule requests, and always say thank you to the customers.